I have attended several events over the last few weeks in anticipation of making holiday gift suggestions.  Here's the thing…I don't give a lot of gifts out for the holidays (shhh).  We give gifts to the kids in our life – including our own, our parents, teachers and service people.  We also attend various holiday parties where there are small gift exchanges, but that is about it.  Reggie and I don't even exchange gifts with one another. That doesn't mean that we don't like to give gifts though.  I just prefer to give gifts on birthdays or just throughout the year when I see something that I think a friend/loved one will enjoy. So, I basically hold on to the end of the year gift ideas to guide my shopping decisions for the next year.  So below are my favorite gift suggestions for 2011/2012…
1. My friends over at Cool Mom Tech co-hosted a great event with CNET at the CNET Gotham Pop-Up Store. There, they shared ten of their favorite holiday tech gifts for 2011. What I learned more than anything else is that I am an Android girl living in an iPhone/iPad world. I'm alright with that.  You can see all of the CMT picks on their site. A couple of things that I really liked from the event involved photos – photo albums by Keepsy and video slideshows by Animoto.  I am going to be doing a separate post on my photo cards, photo books and video slideshows for the holidays, but meanwhile visit this Cool Mom Picks post. They are giving their readers a free 30-day Animoto Plus membership so you can make your own full-length holiday video!
2. The researcher in me loves Consumer Reports. They really are the only publication that I consider to be completely neutral, because they are a nonprofit/don't accept ads at all. The highlight (for me) at their media event which was highlighting their 2011 Naughty & Nice Holiday List was discovering their SHOPSMART magazine. It was filled with so much helpful shopping information…from food to family.  My family actually loves to play games for family night, so I'm buying the Mattel Uno Roboto
(one of their playtime family picks) for our family as a gift.  I especially like that you can add a 'house rule" at the beginning of each game, because the last time that we played regular Uno, it was a trip! We couldn't come to an agreement regarding whether or not you needed to say "Uno" if you put the last two cards down at the same time. I want to make that a house rule!
3. A "Join the club!" article in
SHOPSMART magazine
was actually the impetus for me attending a BJ's blogger event. The article had a comparison of BJ's and the other main warehouse store competitors. The two things that I liked the most about BJ's are that they are the only major club that accepts manufacturer coupons.  They also accept more methods of payment than their competitors.  At the event, I also learned about coupon stacking (combining BJ's in-store coupons with manufacturer coupons) thanks to
Mitch
(Gay NYC Dad). I found this YouTube video that explains it best:
(On a special note, BJ's is offering a FREE 60-Day Trial Membership up until 12/31/11.  You can access the pass on the
BJ's site
.) We received a Babycakes Donut Maker as a gift at the event, but I have my eye on the Babycakes Cake Pop Maker.
4. I was curious when my friend Amy (Selfish Mom) invited me to a T-Mobile holiday shopping event. I had been testing out a Windows Phone on the T-Mobile network and had been pleasantly surprised that I wasn't having any connection problems. Alas, I'm still a Verizon gal, but
if
I were on the T-Mobile network, I would want the
HTC MYTOUCH 4G SLIDE
. It has a really powerful 8-megapixel camera and most importantly (to me) is that it has a QWERTY keyboard (my favorite phone component). In any event, if you are looking to buy a tech gift (especially phones), check out Amy's "
How to buy tech for other people
" post. It has several helpful questions to ask and other helpful tips.
5. Real Simple held an event to showcase their pop-up shop in Bryant Park. The shop ends on 12/13, so definitely stop by if you are in the midtown area. Along with the sale of many of the Real Simple gift guide picks,  L'Oreal Paris is offering mini makeovers and hair consultations at the pop-up shop.  The Container store, Vera Bradley and Citi are also sponsors of the event. I must say that my favorite thing at the event was the L'Oreal Voluminous False Lashes
. I promptly threw away my old mascara.  At less than $10, this is the perfect gift to give yourself. The other thing that I liked about the Real Simple event is that Donors Choose is their charitable partner.  If you donate to Donors Choose and use the code "REALSIMPLE", the board members of Donors Choose (including Stephen Colbert) will match your donation. This is such a great way to give to classes in need during the holiday season!
6. I'm debating whether to give the beautiful gift box of Ouidad Climate Control and conditioning products (that I was gifted) to one of my curly haired friends or to keep it for myself.  Ouidad has a great reputation and comes highly recommended from several of my curly haired friends but I usually wear my hair straightened/rarely wear it curly. I have read that Ouidad is a really great brand for Black women's hair too though (especially because the sulfate free shampoo is really gentle on our hair), so I just might keep it. I asked my hairstylist Shanelle what she thought and she said to try it. I'll see…but without a doubt, Ouidad is a great gift option for ladies with curls!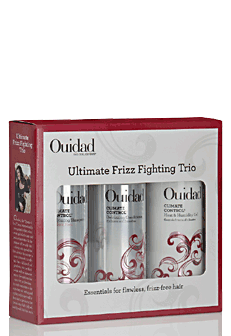 7. Brookstone is one of those stores that I just like to go and tinker around in. Some of my favorite gifts that I have bought for friends over the years have come from this store. At the event, we were gifted with a battery operated neck wrap that had a built-in vibration massager. I think that it makes the perfect gift for those who travel a lot, so I gave it to a girlfriend who frequently travels from LA to NYC.  She loved it and happily wore it back to LA on the plane.
So these are seven of my gift picks for the adults in your life.  Later this week, I will share my top kid gift picks. Is there a special gift that you are looking forward to giving (or receiving!) this year?